VOX VCM60
Clubman 60 50W Combo Amp For Hollow Body Guitars
VOX – VCM60  Clubman 60 50W Combo Amp For Hollow Body Guitars
DESIGNED FOR HOLLOW-BODY GUITAR PLAYERS
CHORUS AND REVERB EFFECTS FOR SPARKLING CLEAN TONES
HIGHER GAIN TONES AVAILABLE ON CHANNEL 2
Tube powered Guitar amp ideal for hollow-body guitars.
Delivering a full range clean sound with rich mellow tone for the discerning guitarist.
The preamp section of the VOX Clubman 60 utilizes the groundbreaking Korg Nutube, a next-generation true vacuum tube that delivers the rich overtones of a traditional vacuum tube. This lightweight 60W (peak) amplifier is designed to bring out the best of any hollow and semi-hollow electric guitar, providing warm yet dimensional clean tones with simple controls. The Clubman 60 is a two-channel amp with INPUT 1 producing a high-fidelity yet warm and natural vacuum tube sound, and INPUT 2 voiced to match a typical electric guitar amp tone with more mid range bite (compared with INPUT 1) making it ideal for pairing with your favorite drive pedals.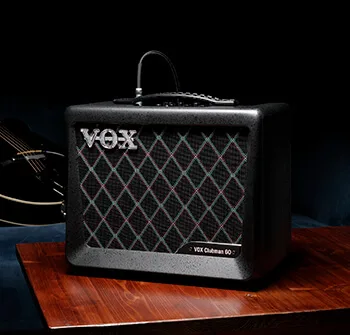 Hi-fi sound quality to further define your tone

While specializing in warmer tones, the INPUT 1 channel produces a full-range hi-fi sound, using a coaxial speaker with a tweeter. This allows the player to achieve warm mellow tones perfect for hollow or semi-hollow style guitars, all without sacrificing nuanced dynamics and emphasized accents. Designed not to clip even at higher volumes, players maintain lush clean tones even at higher gain settings, which is quite uncommon for vacuum tube amps.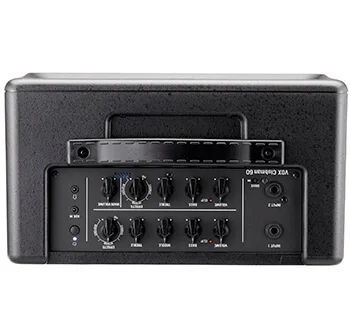 Standard electric guitar sounds for a broader sound palette
The INPUT 2 channel is voiced to offer more traditional electric guitar tones emphasizing the mids/high-mids, making it ideal for pairing up with the built-in switchable overdrive circuit or with a drive pedal of your liking. This channel allows players to develop your new favorite tone!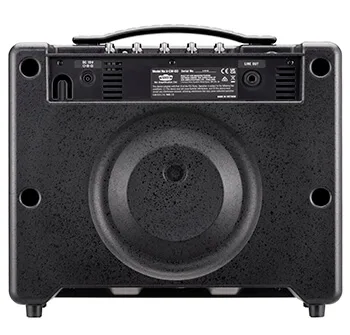 Capable of line-level recording
While the VOX Clubman 60 is designed to handle small to midsize gigs in venues like smaller bars and clubs, this amp is also well suited for applications like home studio use, as it features a line out jack for direct recording.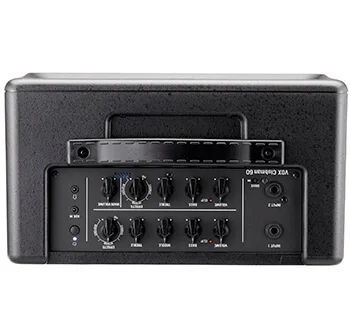 Built-in chorus and reverb
The VOX Clubman 60 also features built-in chorus and reverb effects that can be used together to add further flavor and depth to your sound, making it all the more useful in a wide variety of performance and recording situations.
SPECIFICATIONS
Input/output jacks
INSTRUMENT jack: 6.3 mm phone jack (unbalanced) × 2
AUX IN jack: stereo mini-phone jack
LINE OUT jack: 6.3 mm phone jack (unbalanced)
PHONES jack: stereo mini-phone jack
Vacuum tube: Nutube 6P1
EFX INPUT 1 channel: Chorus, reverb, chorus + reverb
EFX INPUT 2 channel: Same as above
EQ INPUT 1 channel: BASS: ±10 dB @200Hz | MIDDLE: ±7 dB @700Hz | TREBLE: ±10 dB @3.5kHz
EQ INPUT 2 channel: BASS: ±10 dB @200Hz | TREBLE: ±10 dB @3.5kHz
Power amp output: approx. 50 W RMS (60 W peak)
Speaker: VOX Original 8″ speaker with tweeter (2-way coaxial)
Power: AC adapter (19 V DC)
Power consumption: 3.42 A
Dimensions: 354 (W) × 208 (D) × 313 (H) mm/13.94 × 8.19 × 12.32″
Weight: 4.6 kg/10.14 lb
Included items: AC adapter, power cord