PEARL DRUMS MM6 SERIES MASTERS MAPLE
SONICALLY-CENTERED, ARTICULATE, AND POWERFUL MAPLE TONE FOR THE MODERN CONCERT STAGE.
In celebration of three decades of Masters quality and excellence, Pearl fuses new appointments, refreshed finish and hardware choices, and the ground-breaking resonance of the R2 Air Tom Suspension System with the history-making Masters MCX shell formula.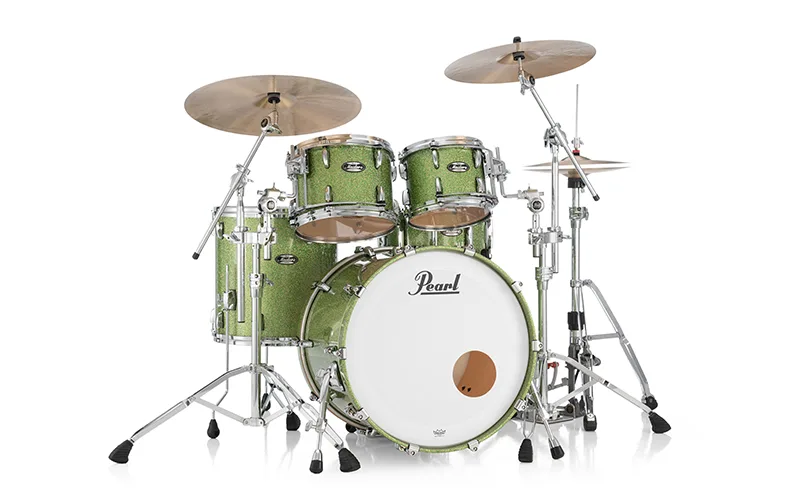 Sonically Centered, Articulate, and Powerful.
Massive Maple Drum Tone For Loud, Fast, Furious Drumming Prowess.
Since their introduction in 1993, Pearl's Masters Series drums have been a preferred standard for the professional who insists on quality. Progressing from the 4-ply MMX Recipe to the heavier 6-ply MCX shell, Pearl's combination of North American Maple and precision hardware appointments has found a performance home with countless drummers from the recording studio to the concert stage.
Three Decades of Quality and Excellence.
Now, Pearl reimagines the MCX shell recipe with Masters Maple. Featuring hand-curated premium shell plys from Pearl's Masterworks Veneer Vault and formed with our Superior Shell Technology process, the Masters 6-ply All Maple shell cuts a sonic path through high-volume stage sound and makes every note striking and clear.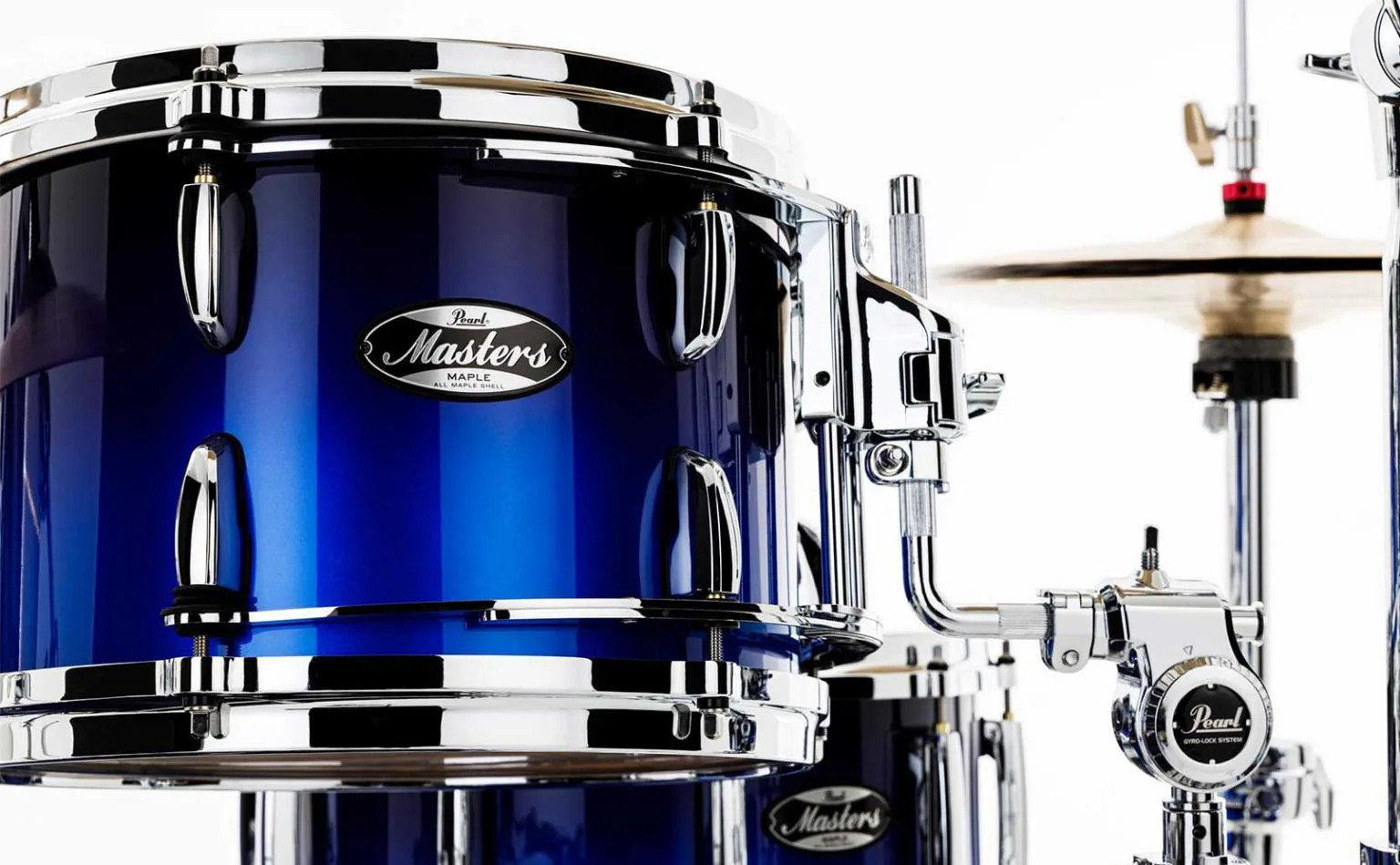 The very best in performance centered instruments.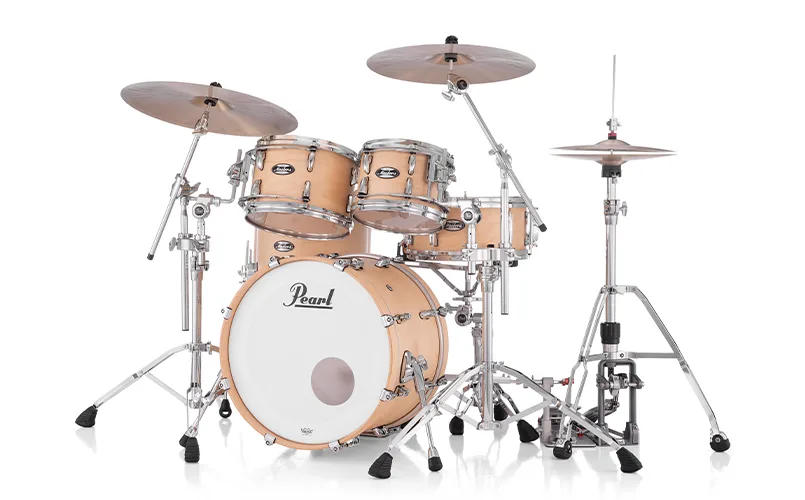 Masters Maple (MM6) Series
With a sound that sits in the tonal center of the mix, Masters Maple is Pearl's original 6-ply shell recipe. This timeless combination of a slightly thicker 6-ply North American Maple shell and a sharper 45-degree bearing edge produces enough precise projection to shake the rafters, yet is responsive to even the slightest stroke. Professional Pearl standards like Mastercast Die-Cast Hoops, CL Bridge Lugs, and revamped bass drum spurs and floor tom brackets assure optimum performance in any environment; while the ground-breaking R2 Air Tom Suspension system's four-point mounting platform delivers optimum tone and resonance at any angle. Available now in a dizzying array of Premium and Custom finish choices to represent your vision.
SHELL – 6-ply (7.5mm) 100% Maple
SNARE – Matching 13×6.5, 14×5, 14×6.5, or 14×8 (Sold Separately)
BEARING EDGE – Standard 45°
FINISH – Premium / Custom Finishes (available at charge)
HEADS – Remo Coated Ambassador Tom – Coated Powerstroke3 Bass
TOM MOUNTS – R2 Air Tom Mount Suspension System
DRUM HARDWARE – Chrome (Black Nickel, Nickel, and Black Chrome hardware available at premium charge)
SPURS – SSP-330
FLOOR TOM BRACKETS – LB-75
HOOPS – MasterCast Hoop
LUGS – CL Bridge Lug | CL-100 (Toms) | CL-250 (Bass Drum)
BASS DRUM MUFFLER – BDM-F (Full Size)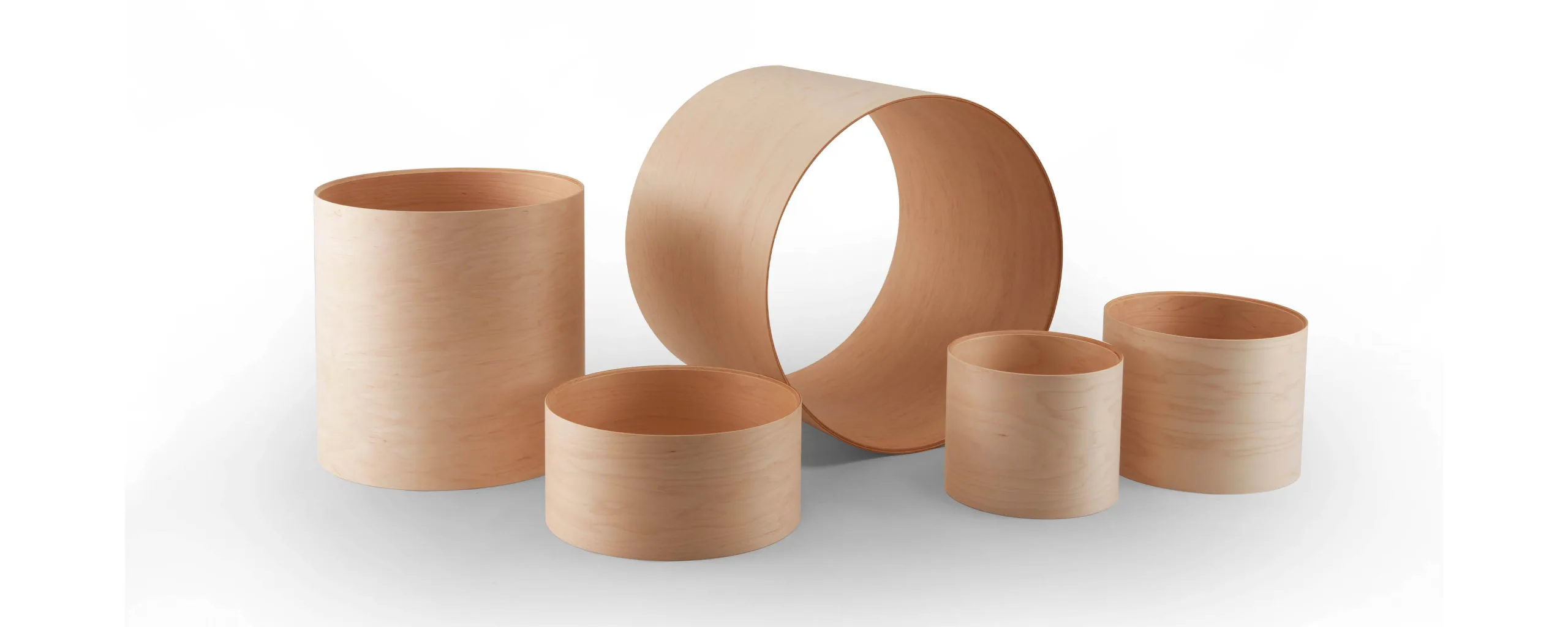 SHELLS
ATTACK AND PROJECTION WITH SMOOTH, FULL-BODIED RESONANT ATTACK.
With an equalized high/mid/low tonality, Masters Maple drums feature North American Maple plies from our Masterworks Veneer Vault. Delivering a sophisticated balance of tone and power, its 6-ply Maple Shell Recipe yields rich, sustained lows, powerful midrange, and centered, resonant shimmer that's primed for cutting, vibrant live performance.
MM6 Shell
The 6-ply Masters Shell.
Fit for new levels of sonic purity in the most discerning playing environments.
Warm, Focused Maple Tone.
Smoother resonance, enhanced projection, and better tone.
45° Bearing Edge
Precise, low contact edge adds tonal focus and versatile sonic throw.
SST Hummer
Using the world's first high temperature hydraulic curing system, Pearl's SST method was developed to craft a multi-ply, bonded drum shell with single-ply resonance and strength. This proprietary technique begins with hand-selected premium hardwoods chosen for their unique acoustic attributes. Each layer is milled to precise thickness and bonded into 2-ply panels. Our trademark overlapping scarf joint seams are added to ensure a perfect air-tight fit. The wood plies are saturated with Pearl's exclusive "AcoustiGlue", which permeates every pore and dries to the exact consistency of the wood for optimum resonance. Finally, the plies are formed in high temperature molds with 1000 PSI of hydraulic pressure, producing the ultimate air chamber for optimal resonance, extreme strength, and superior tone. All shells are tested for flatness and roundness before drilling and assembly to assure supreme head-seating and tuning.
WHAT'S INSIDE: Discover the Elements of Superior Drum Tone.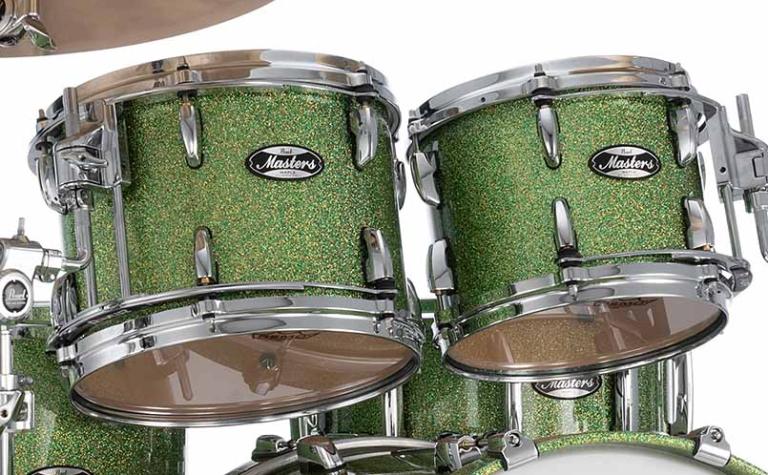 Inspiring Precision Craftsmanship.
Pearl's exclusive hand lacquering process enhances Maple's natural sonic and visual beauty with painstaking detail.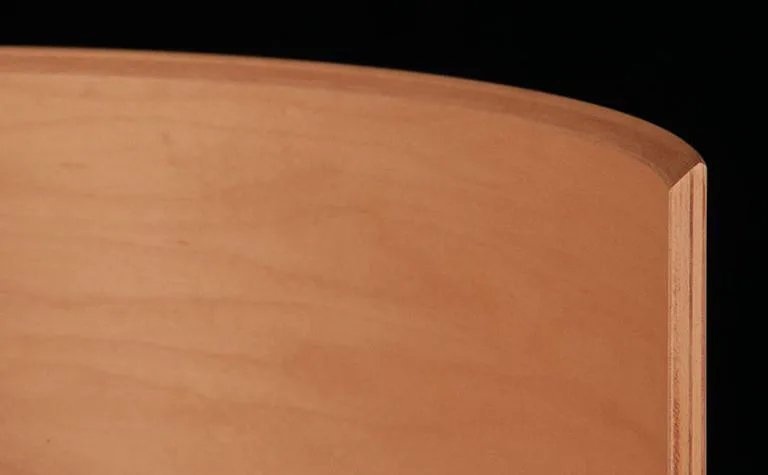 6-ply Maple Shell.
Increased projection, improved sustain, and better sonic output than ever before.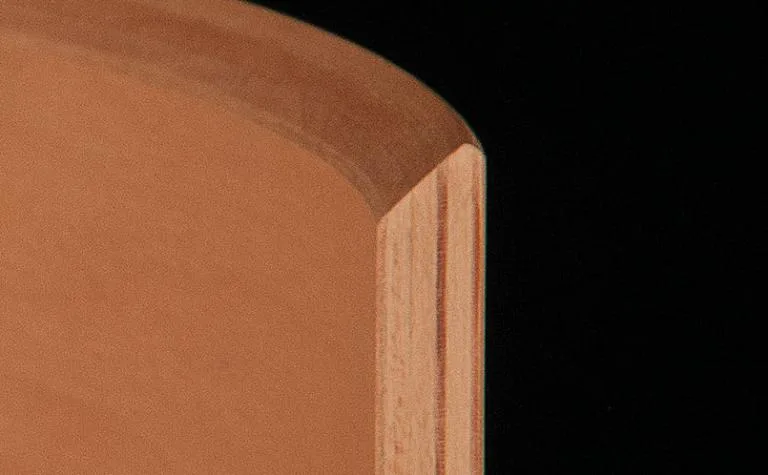 Standard 45 Degree Bearing Edge.
Pearl's original edge provides the perfect blend of attack, warmth, and sustain through minimal head contact.

NEW HARDWARE
R2 AIR TOM SUSPENSION SYSTEM & GYROLOCK-L TOM HOLDER.
A giant leap in drum resonance physics, the R2 Air Tom Suspension System improves overall tone by delivering true, uncolored sound from each rack tom, creating a transitional bridge to floor toms. Combined with Pearl's first L-Arm, the GyroLock-L, R2 Air creates the world's most adjustable and tonally pure drum mounting platform.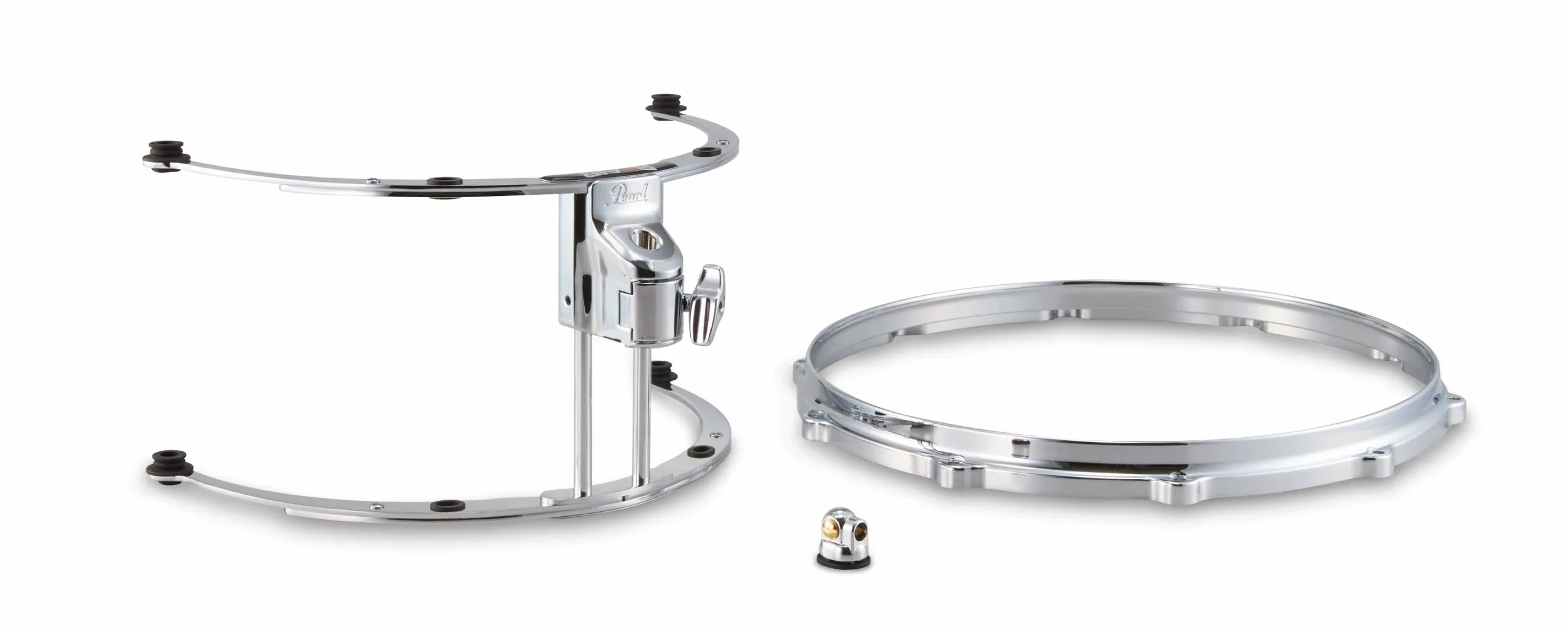 HARDWARE –
STRONG. SIMPLE. STYLISH.
Masters Maple Shell Hardware offers increased resonance, improved bottom end, and a more nuanced, near field playing experience. Professional Pearl standards like Mastercast Die-Cast Hoops, CL Bridge Lugs, and revamped bass drum spurs and floor tom brackets assure optimum performance; while the ground-breaking R2 Air Tom Suspension system's four-point mounting platform delivers optimum tone and resonance at any angle.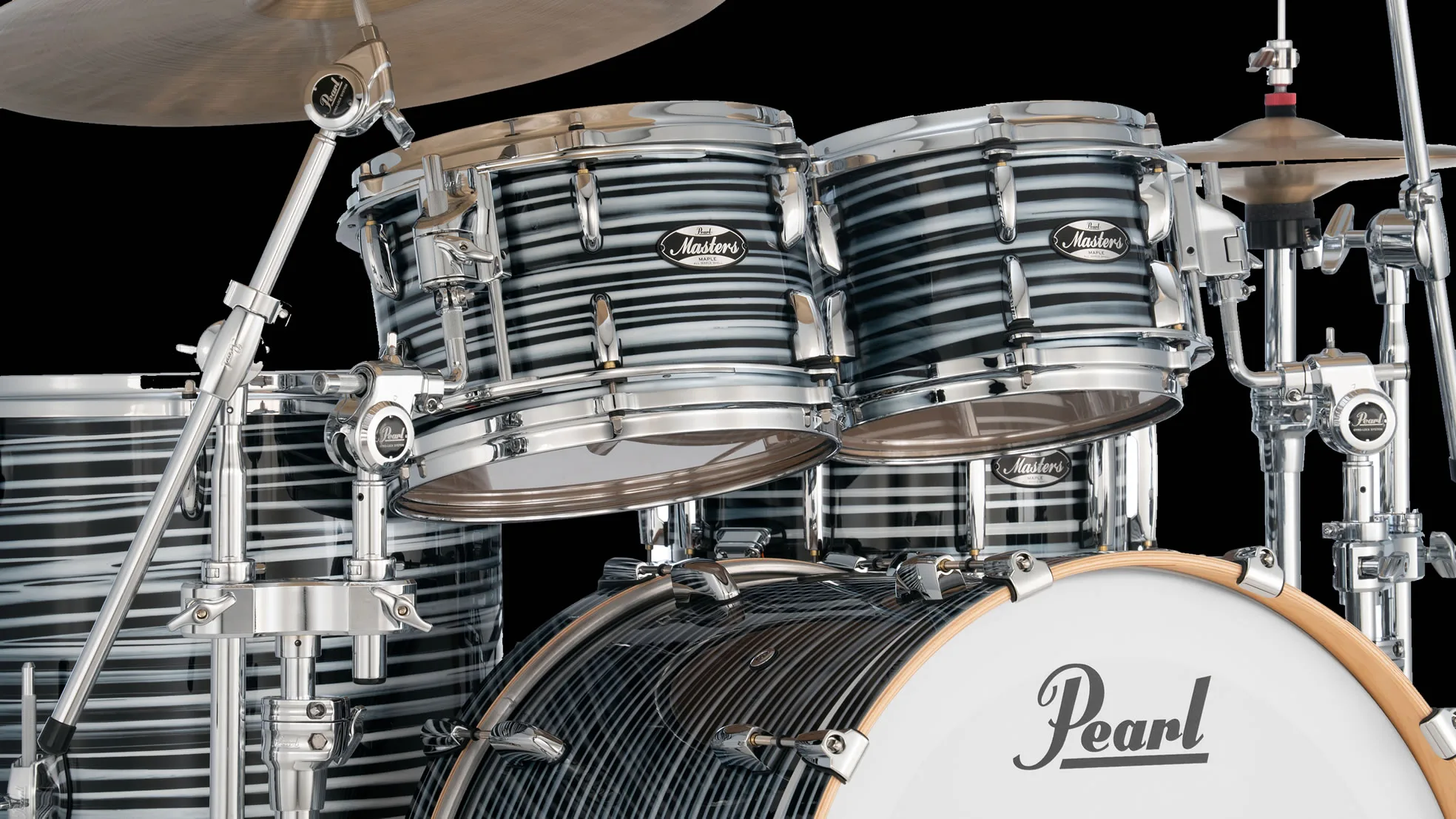 FINISHES – CHOOSE A FINISH THAT INSPIRES YOUR PLAYING PERSONALITY.
Masters Maple MM6 drums are available in two levels of finish choice to best suit your visual preference. Available in a host of historic Pearl finishes in Premium and Custom Finish Tiers, Pearl keeps an unprecedented number of configurable shell packs to give you the features you demand, on demand.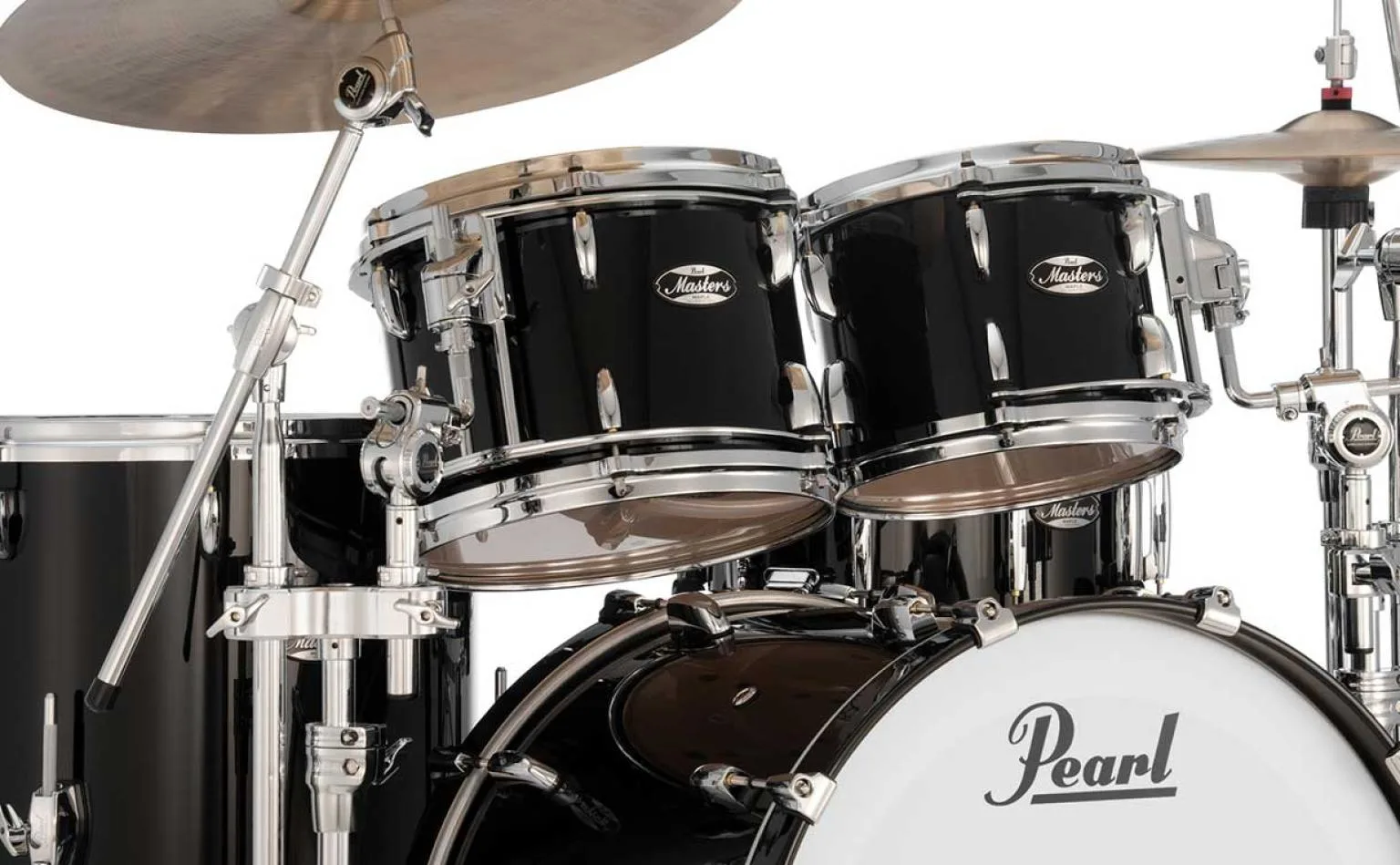 Premium Tier Finishes.
A host of universally flexible Solid, Transparent Gloss and Satin Lacquer finishes, each using our trademark 52-step lacquering process.
Custom Tier Finishes.
Visually striking Stripes, Sparkles, Pearloids and other finishes that continue Pearl's legacy of excellence, and tell your rhythmic story with stunning brilliance.