DIGITECH SDRUM
THE BEST GOES ON! Strummable Drums Auto Drummer Guitar Effect Pedal
SDRUM- DIGITECH Strummable Drums Auto Drummer Guitar Effect Pedal
DIGITECH SDRUM
Strummable Drums
SDRUM is the world's first intelligent drum machine for guitarists and bassists. By simply scratching across your guitar strings, you teach the SDRUM a kick and snare pattern that forms the foundation of the beat you want to hear. Based on this pattern, the SDRUM supplies a professional sounding drum beat with different embellishments and variations to perfectly complement your beat. Gone are the days of having your creative flow disrupted by searching through lists in a frustrating attempt to find the beat you want.
The SDRUM stores up to 36 different songs. Beats are played from a choice of 5 different kits covering a wide range of genres. The pedal also supports three different parts (e.g. verse/chorus/bridge) for each song that can be switched on the fly for enhancing live performances and exploring song ideas.
SDRUM is the fastest way to go from a beat idea to a working drum track.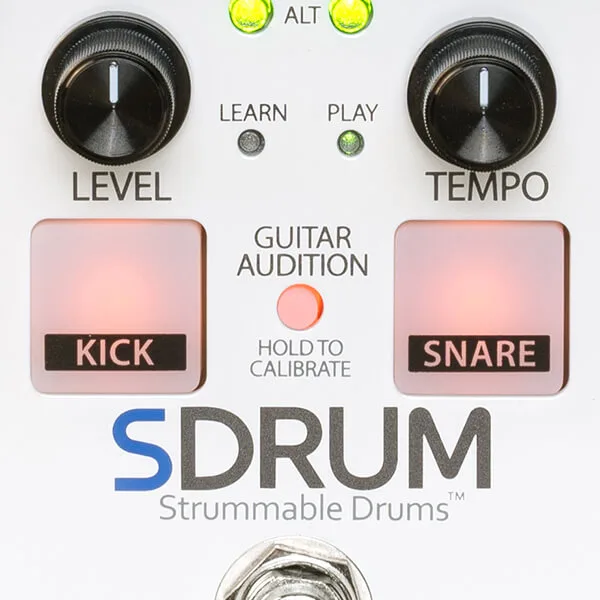 BeatScratch™ Technology
BeatScratch™ Technology lets you teach the SDrum a drum pattern by strumming your strings.
Groove / Kit Knob
Select between 5 different kits, 3 different embellishment levels (simple to busy), and various groove styles and time signatures to customize the drumbeats.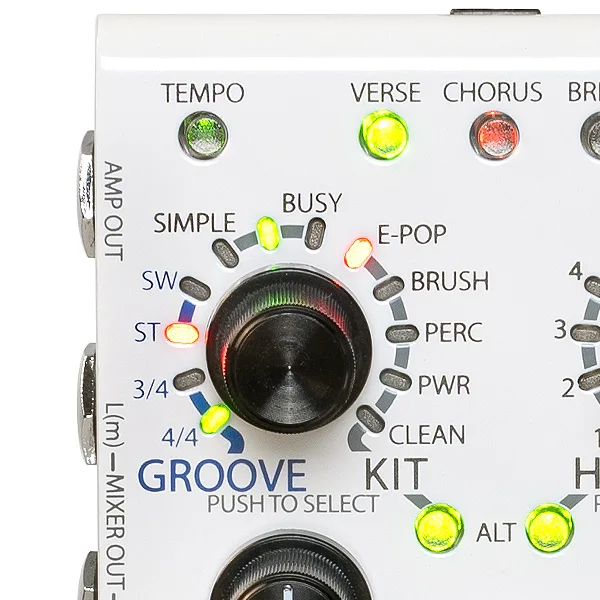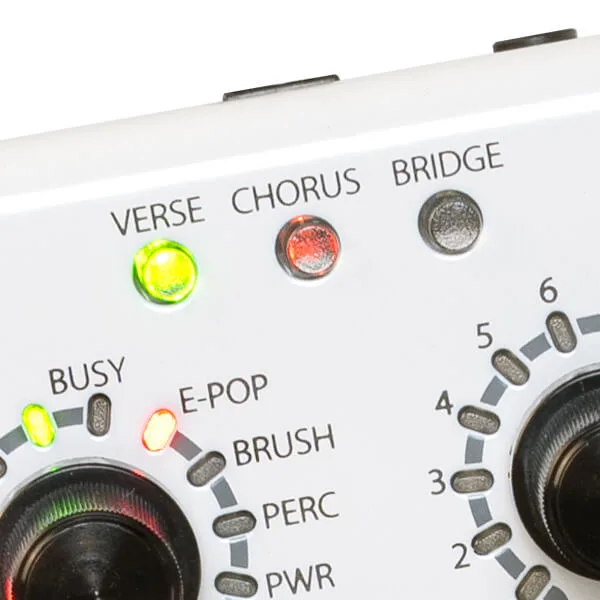 Learns up to 3 different song parts
3 parts per song each with 3 different intensities for realistic transitions from Verse to Chorus to Bridge.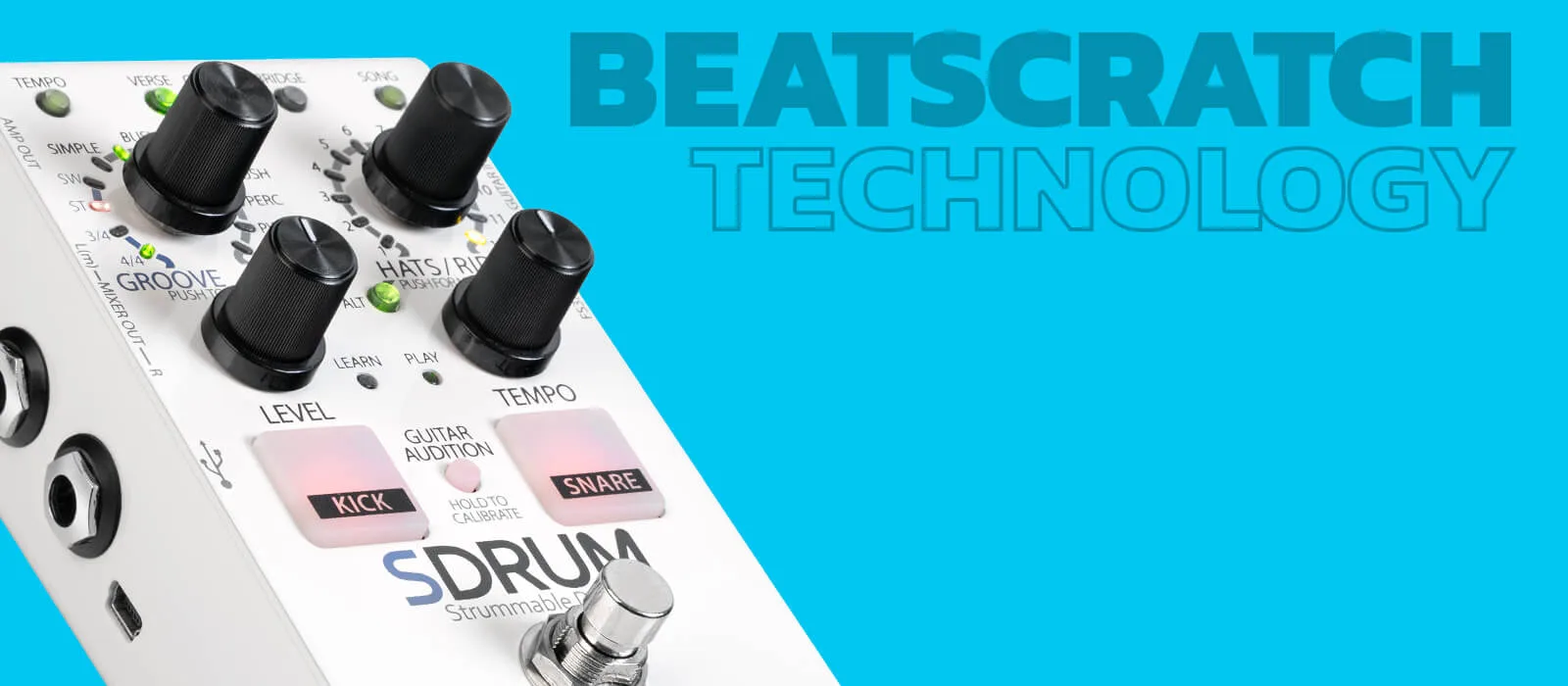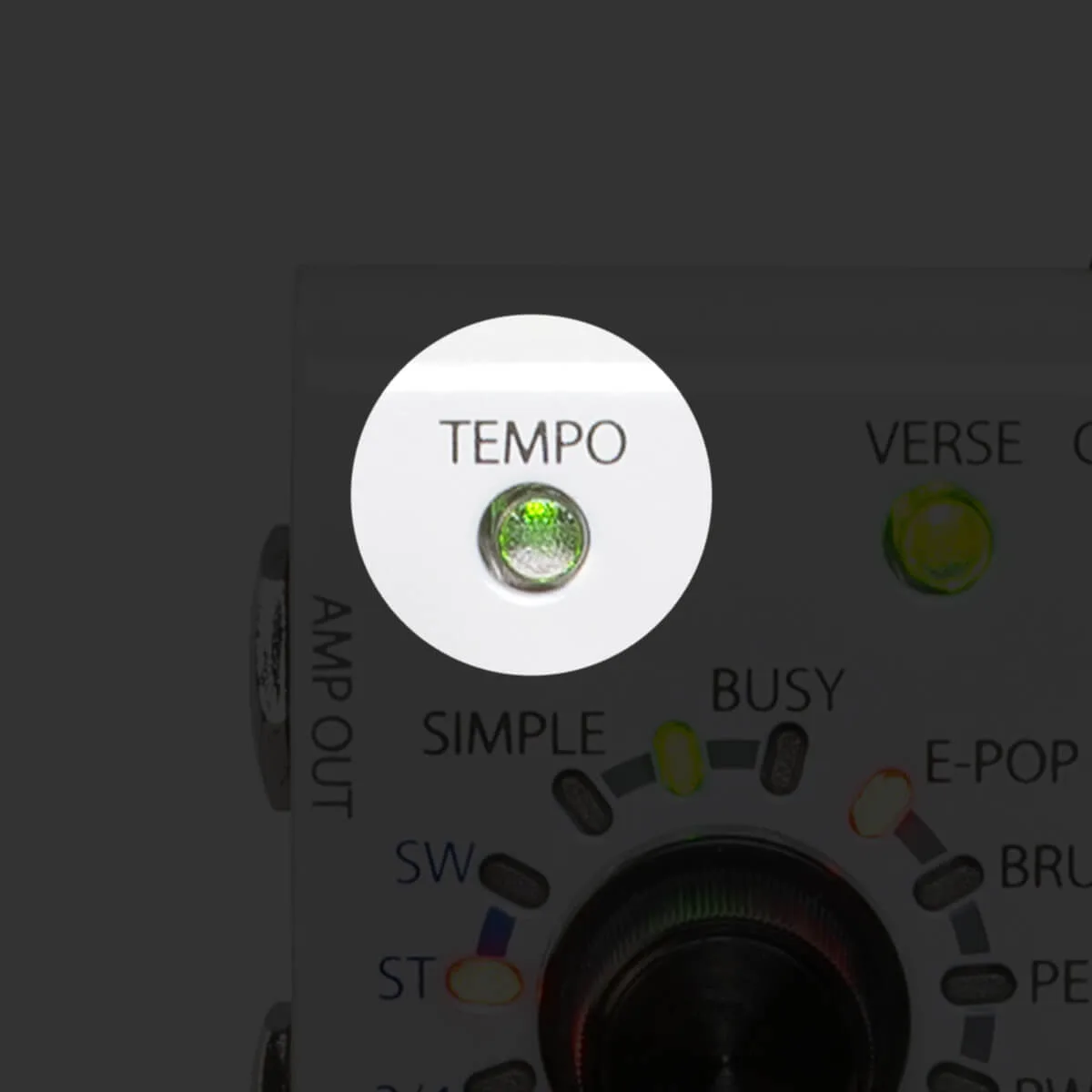 TEMPO Button
Tap to change the playback tempo. Flashes red and green to indicate beats of a bar. Hold to save a modified tempo.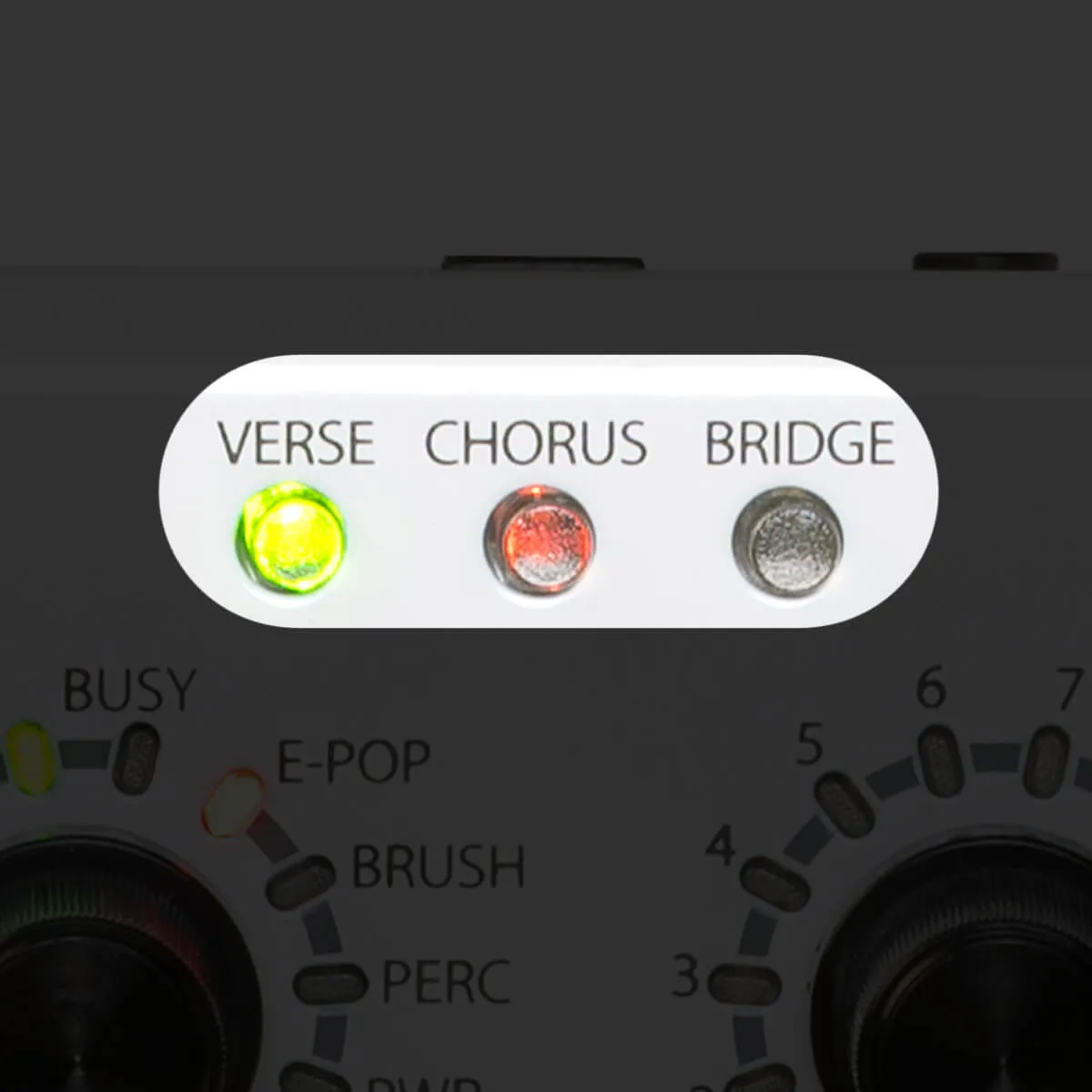 Part Buttons
3 parts per song each with 3 different intensities for realistic transitions from Verse to Chorus to Bridge.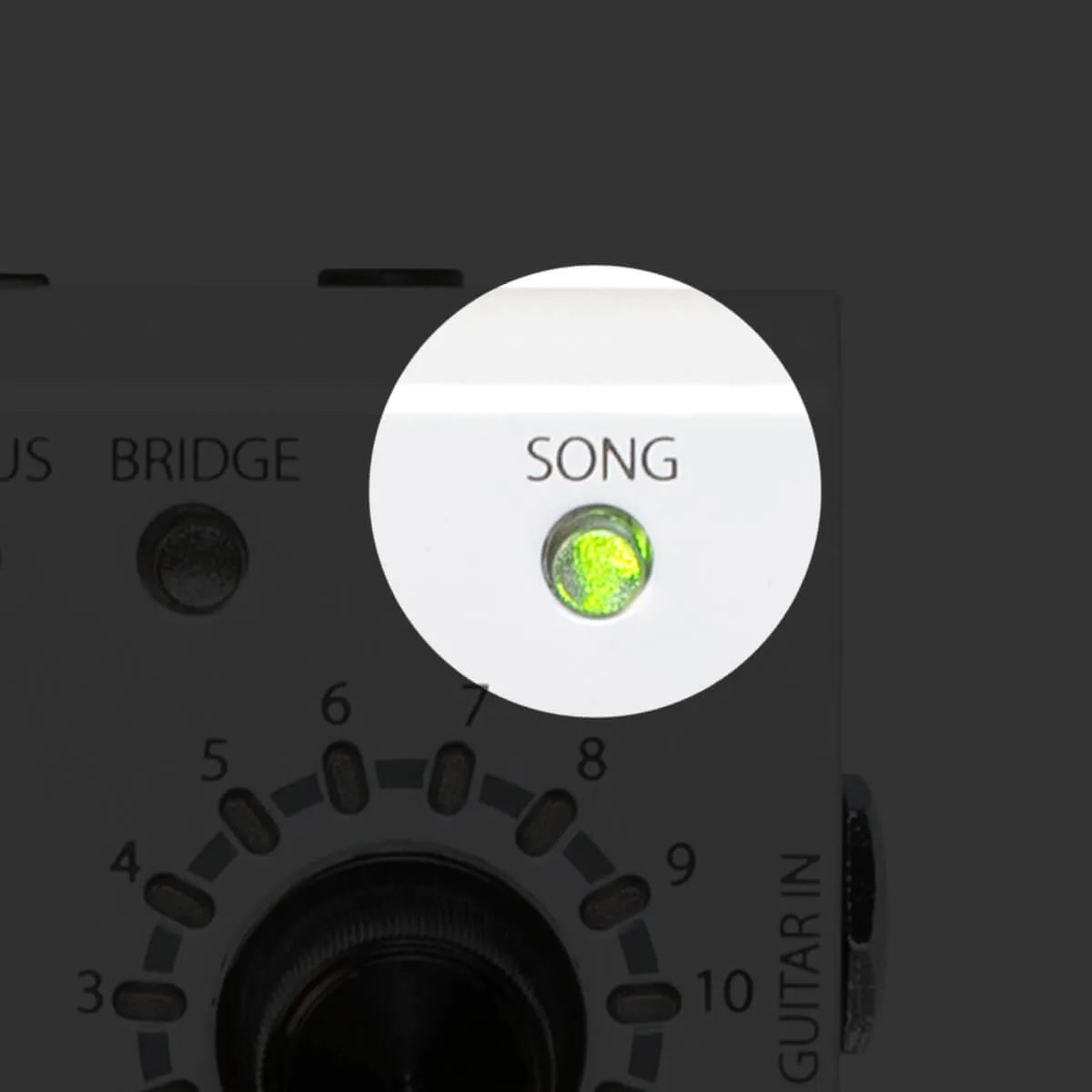 SONG Button
Access up to 36 songs by pressing this button and using the HATS/RIDES knob.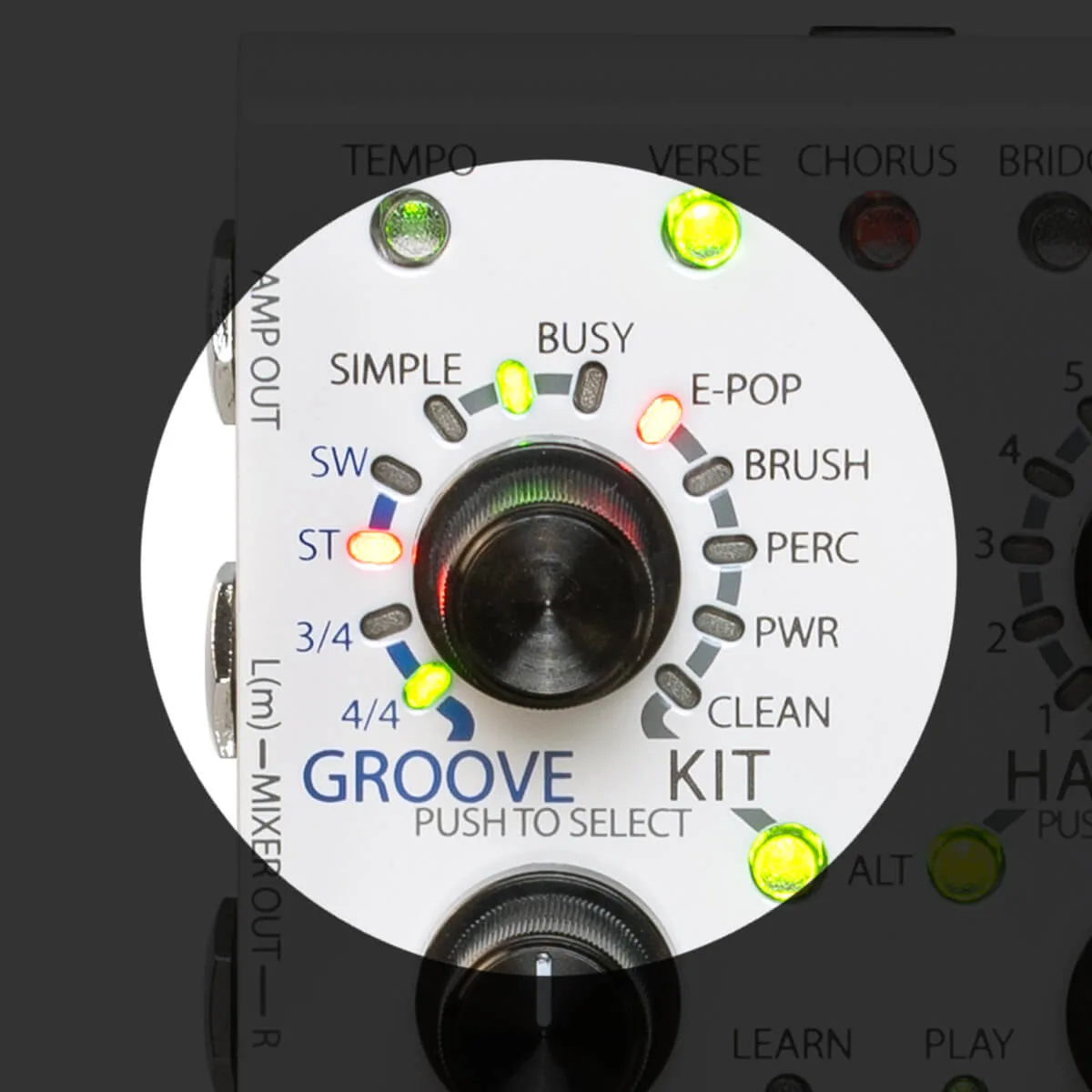 GROOVE/KIT Knob
Selects between 5 different kits. Also used to set amount of extra embellishments, timing and feel to drum patterns.
ALT Buttons
Select alternate instruments for Hats/Rides (including toms, shakers, tambourines) and alternate Kick and Snare drums.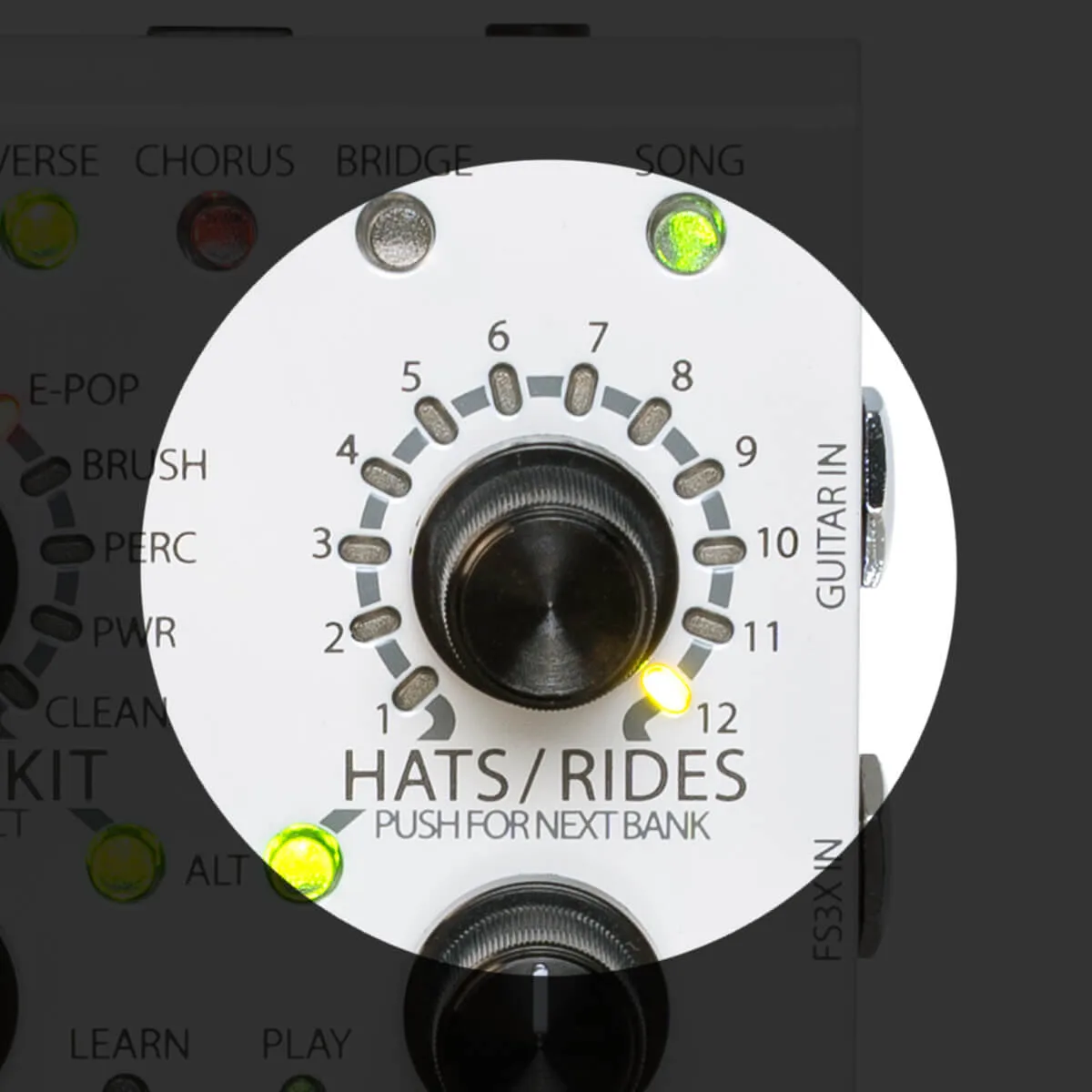 HATS/RIDES Knob
Selects 12 different hats/rides styles. Pressing the knob switches between quarter, eighth and sixteenth note timings.
TEMPO Knob
Change the tempo from the stored (center detent) position.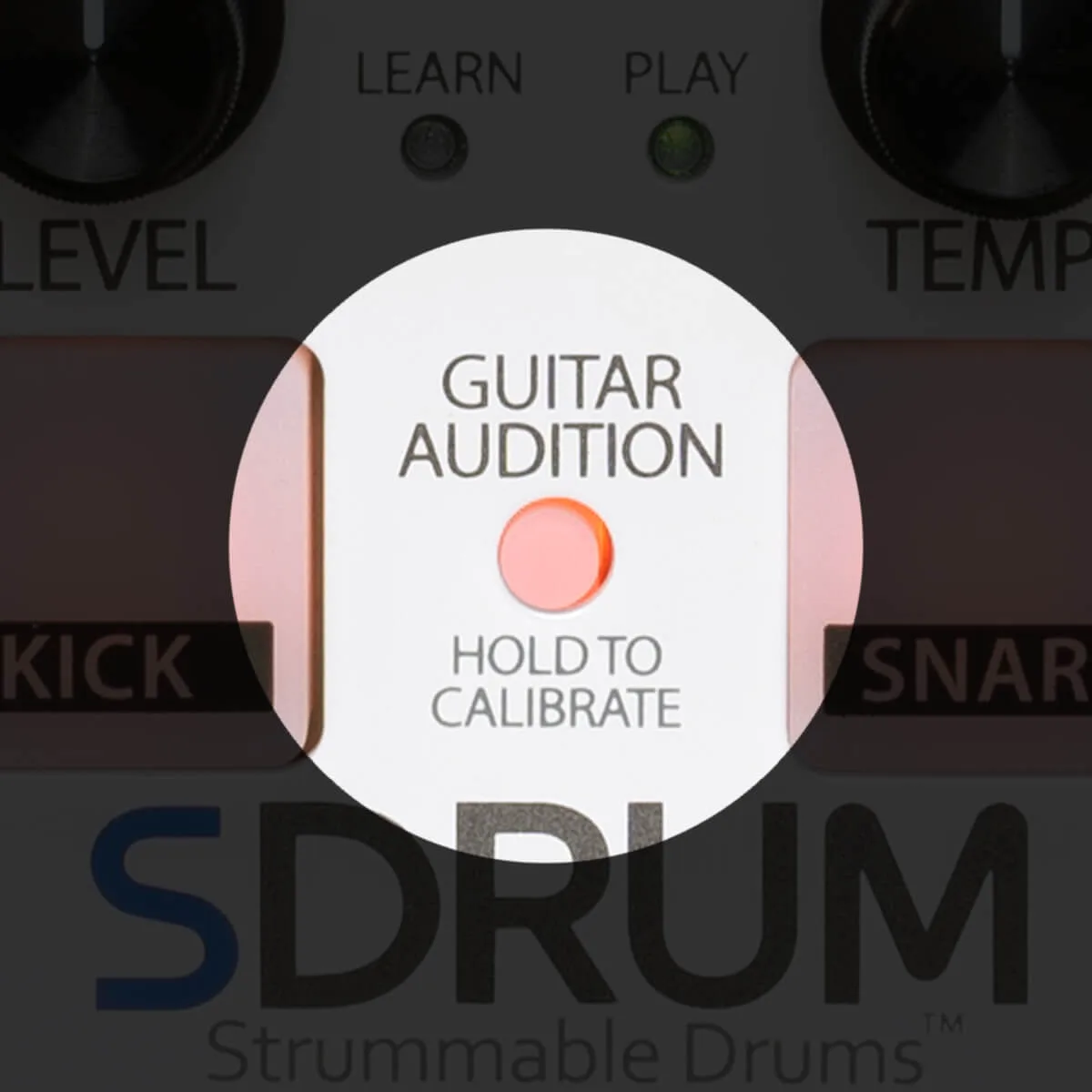 GUITAR AUDITION Button
Turns on or off the drum output when strumming. Hold this button to calibrate your guitar or bass.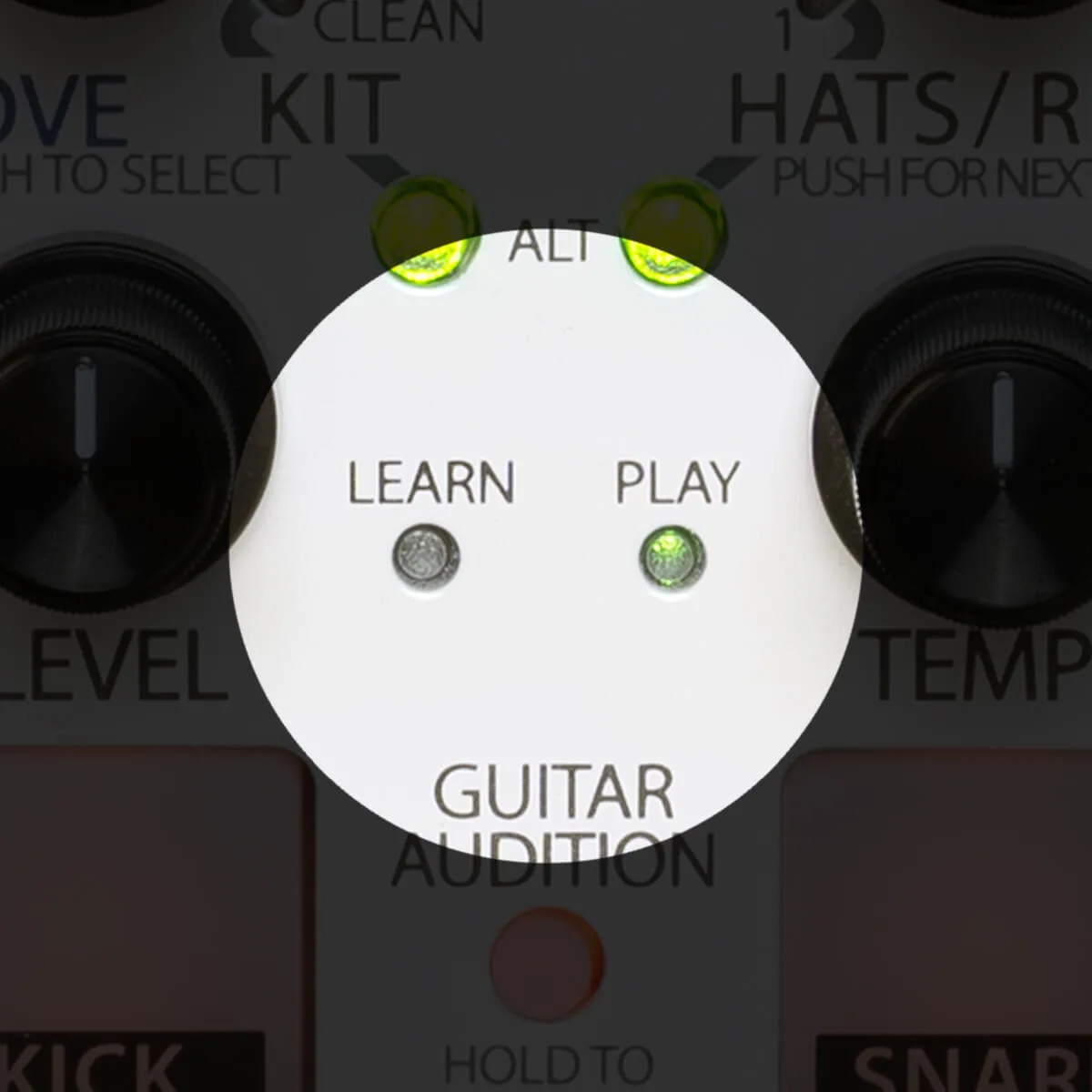 LEARN/PLAY LEDs
Shows status of learning a part or playback.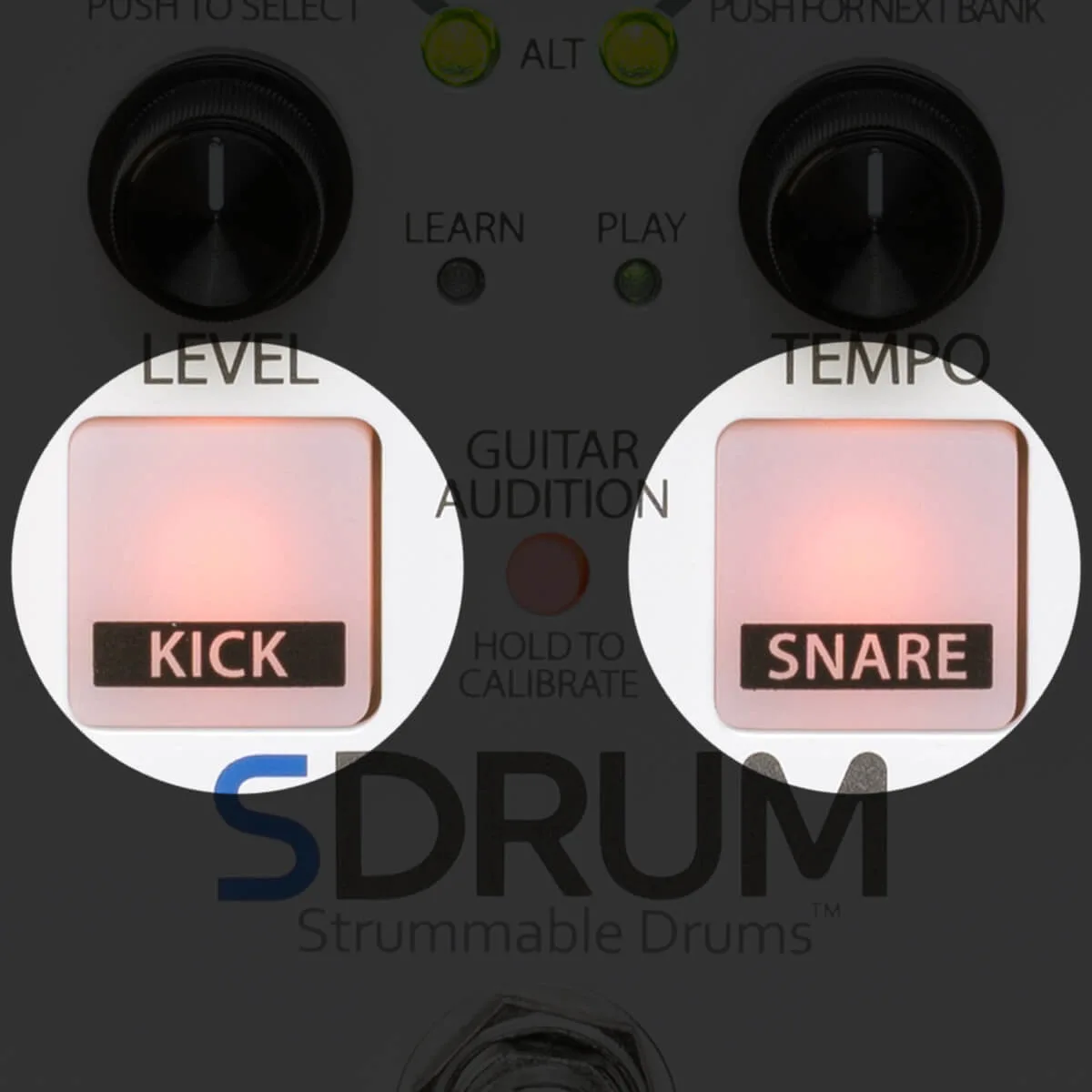 KICK/SNARE Pads
Audition kits and tap in beats using the KICK and SNARE pads.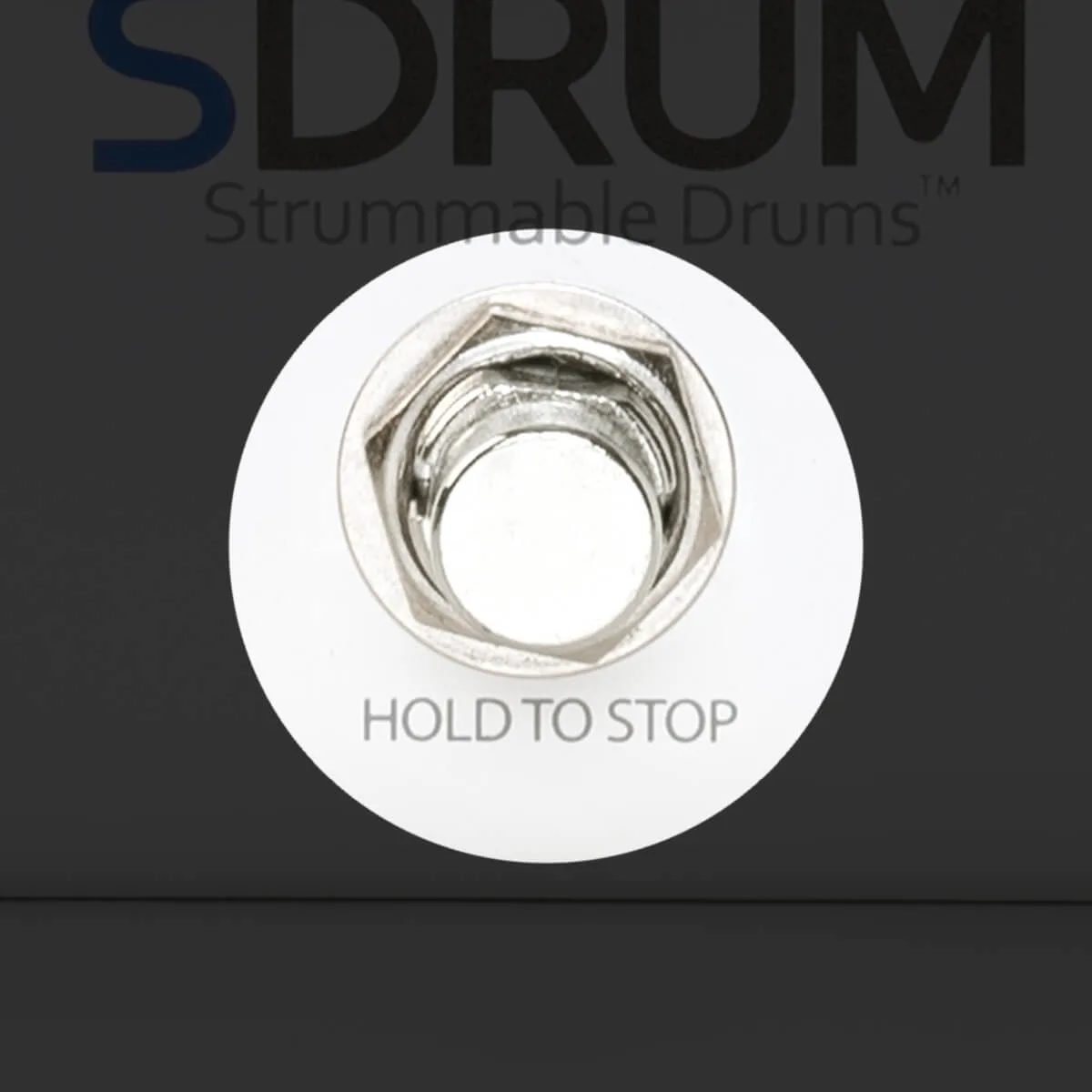 Footswitch
Use to teach a pattern or start song playback. Tapping the switch during playback queues the next part. Holding the switch stops playback.
USB Port
Used for product updates.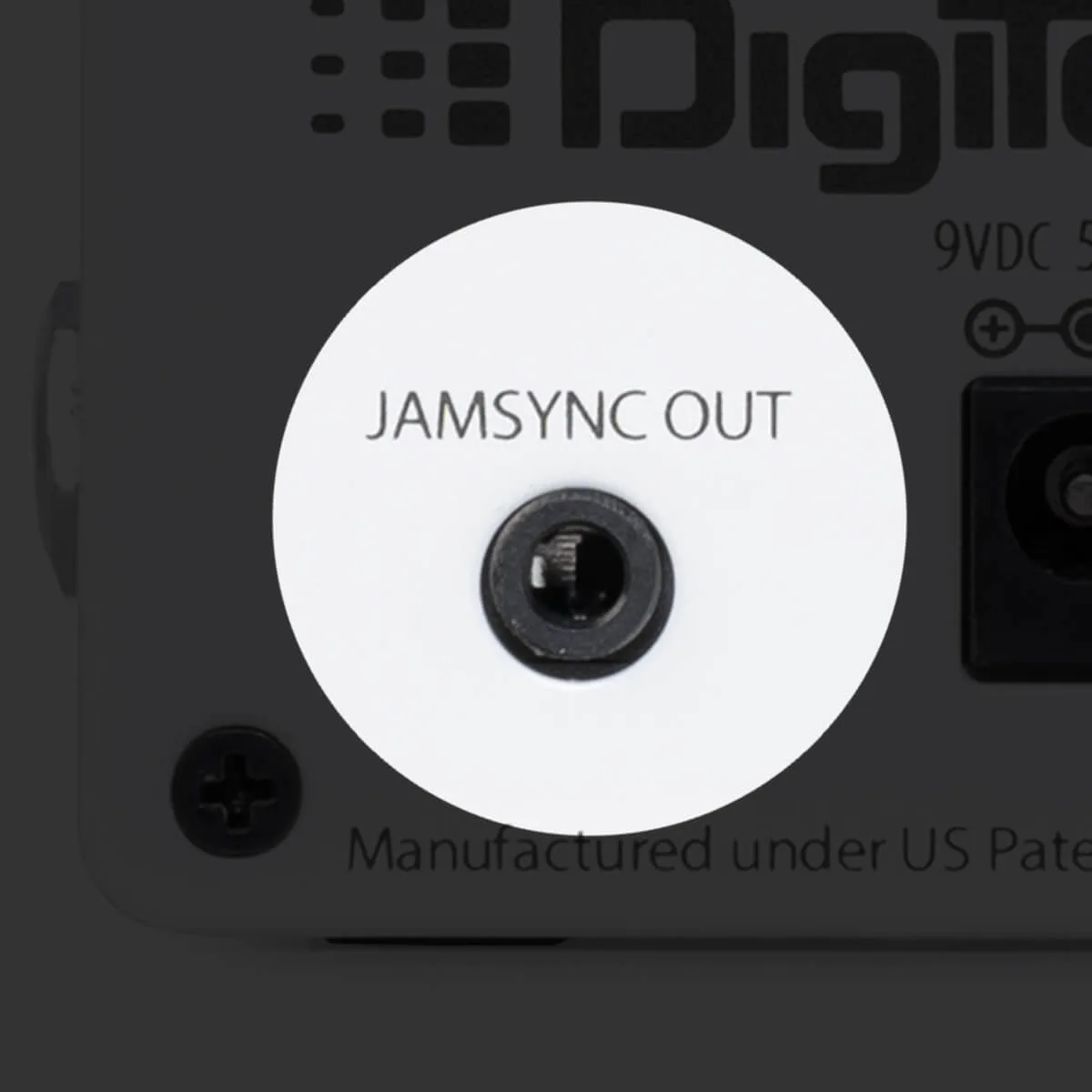 JamSync™ Output
Easily synchronize with JamSync enabled JamMan looper pedals.
SDRUM – GENERAL SPECIFICATIONS
CONTROLS: Groove/Kit, Hats/Rides, Level, Tempo
BACKLIT BUTTONS: Tempo, Verse, Chorus, Bridge, Song, Alt (Kit), Alt (Hats/Rides), Guitar Audition
PADS: Kick, Snare
FOOTSWITCHES: Main Footswitch
LEDS: Learn, Play
JACKS: Guitar In, FS3X In, Amp Out, Mixer Out L(m), Mixer Out R, JamSync Out
OTHER: Mini USB port
SDRUM – INPUTS
GUITAR INPUT: Type: Unbalanced, 1/4″ TS / Impedance: 1 MΩ / Max Input: +8 dBu
FS3X INPUT: Type: 1/4″ TRS (compatible with DigiTech FS3X)
SDRUM – OUTPUTS
AMP OUTPUT: Type: Unbalanced, 1/4″ TS / Impedance: 1 kΩ / Frequency Response: 20 Hz–20 kHz
MIXER L/R OUTPUTS: Type: Impedance balanced, 1/4″ TRS / Impedance: 1 kΩ / Max Output: +19 dBu / Frequency Response: 20 Hz–20 kHz
JAMSYNC OUTPUTS: Type: 1/8″ TRS
SDRUM – PERFORMANCE
BIT DEPTH: 24-bit
SAMPLE RATE: 44.1 kHz
SIGNAL-TO-NOISE RATIO: ≥108 dB, A-weighted
THD + NOISE: 0.004% @ 1 kHz
SDRUM – STORAGE
MAXIMUM BARS: 4 bars per song part
MAXIMUM PARTS: 3 per song
MAXIMUM SONGS: 36
SDRUM – USB
SDRUM – Physical
DIMENSIONS:  5.25" (L) x 3" (W) x 2.45" (H) / 133.4 mm (L) x 76.2 mm (W) x 62.2 mm (H)
UNIT WEIGHT: 1.14 lb / 0.52 kg 
SHIPPING WEIGHT: 1.92 lb / 0.87 kg
SDRUM – Power
POWER REQUIREMENTS: 9 VDC external power adapter
POWER CONSUMPTION: <5 W
CURRENT DRAW: 500 mA
POWER ADAPTER MODEL: PS0913DC-04 (US, JA, EU, AU, UK)
POWER ADAPTER OUTPUT: 9 VDC 1.3 A