KORG ARP2600M
The genuine ARP 2600 in a more convenient size.
KORG ARP2600M – ARP 2600 Mini Synthesizer
The ARP 2600, built between 1971 and 1980, was a revered analog synthesizer heard on countless classic recordings. Now it's back again, this time in a space-saving module. Combining the massive sound-shaping capabilities of modular patch-point architecture with the immediacy and user-friendliness of normalled signal paths, the semi-modular 2600 delivered the perfect blend of power, portability, and ease of use. Today's ARP 2600 M is the most iconic synth available for modern musicians, fortified with all the sonic firepower of this synth legend — including spring reverb and a built-in speaker — along with modern features such as silky-smooth sliders, improved attack and release time ratios, and plug-and-play USB/MIDI connectivity. And at 60% of the original size, it's is even more gig-ready than its venerable progenitor. The 2600 M ships with a dedicated protective case and a free music software bundle, so you can plug in and start playing right away.
When the ARP 2600 FS was announced in January 2020, it quickly became a phenomenal success with musicians all over the world recognizing the faithfulness to the original ARP 2600.
The ARP 2600 M is around 60% the original size, making it lighter, more portable and easier to place and use in a studio. It integrates the same analog circuitry and components as the ARP 2600 FS, thus faithfully reproducing the characteristic ARP sound.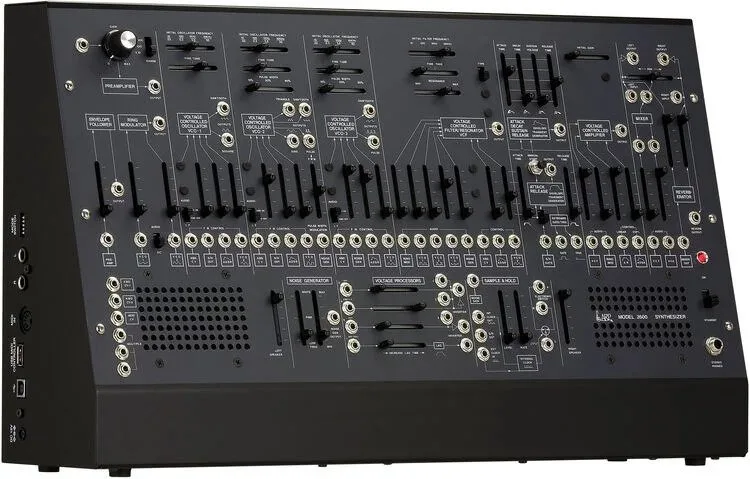 The triumphal return of a legend

When ARP released the 2600 FS — a spot-on, full-sized replica of the original 2600 — in January 2020, it immediately garnered worldwide acclaim. It was also a resounding commercial success, selling out quickly as A-list keyboardists and film composers placed their Sweetwater orders on day one. This time around, ARP is broadening the market with the 2600 M, which incorporates the same analog circuitry and components as the 2600 FS in a smaller, performance-oriented package that delivers authentic 2600 sound and versatility. The 2600 M is not your average mass-produced musical instrument. Handcrafted to exacting specifications in Japan, the 2600 M integrates the same analog components as the FS to flawlessly duplicate the sound and feel of the vaunted original. The 2600's famous spring reverb has been re-engineered, adapting it to the new, more compact chassis. Although production will be ongoing, ARP will manufacture the 2600 M in limited quantities to ensure the exceptional quality of this extraordinary instrument.
Complete sound design studio
More than a synthesizer, the ARP 2600 is a complete sound design studio. In today's hybrid analog/digital music production environment, the 2600 M is your bridge between the essential components of modular synthesis and the hands-on immediacy of a real-time performance/production synth. Of course, it's armed with an arsenal of oscillators and envelopes, a filter, and an amplifier — the building blocks of classic analog synthesis. But the ARP 2600 takes you way beyond the basics with an onboard spring reverb tank and even stereo monitor speakers. The 2600 offers much of the functionality of a vintage modular synth system, including ring modulation, lag and voltage processors, an envelope follower, an audio preamp, a clock-able switch, a noise source, a sample & hold module, signal inverters, an aux mixer, and even parallel-wired/multi jacks.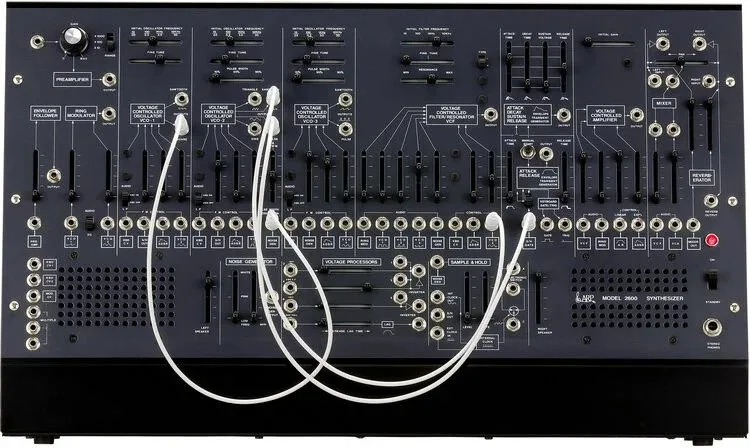 Modular flexibility, instant gratification
Any synthesist who's had experience programming a fully modular synthesizer will tell you it can be a frustrating experience getting up to speed with a new, unfamiliar system. The key word here is "programming," as every signal path must be patched from scratch before the synth will even make a sound. There are no great-sounding presets that can be used as is or to serve as starting points for your own explorations. With that said, modular systems offer flexibility that non-modular systems cannot. You can include any and all modules in a "patch," in any order. Because there are no real rules governing modular programming (other than common-sense ones like "start with a sound source"), you can definitely patch your way into sonic malfeasance — or "happy accidents." But the takeaway is that, although fully modular systems offer amazing sonic dexterity, they do not particularly lend themselves to live performance. That is, unless you're perfectly happy to play just one sound all night. Wouldn't it be nice if there was a synth that offered the best of both worlds? ARP was thinking just the same thing when they designed the 2600.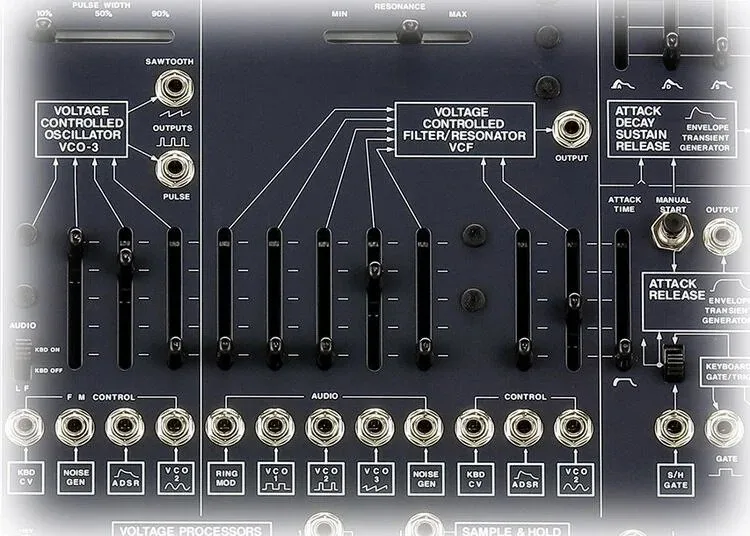 Best of both worlds
Nearly every slider and switch on the 2600 front panel is hard-wired to a specific control source. Having hard-wired pathways gives you immediate control over all the 2600 has to offer, allowing the instrument to be played as is, with no patching required. In true modular fashion, when you're in the mood to roll up your sleeves, throw some patches, and dive into sound design, inserting a patch cord into the jack associated with any hard-wired control interrupts that internal connection, letting you create an entirely new signal path to suit your needs. As a programming aid, the 2600's famously detailed panel graphics clearly display the available signal routings and provide insight into the instrument's architecture. It's this marriage of sophistication and ease of use that sets the 2600 apart from other vintage analog synthesizers. Whether you're an accomplished synthesist or seeking to become one, the ARP 2600 M will seriously up your game.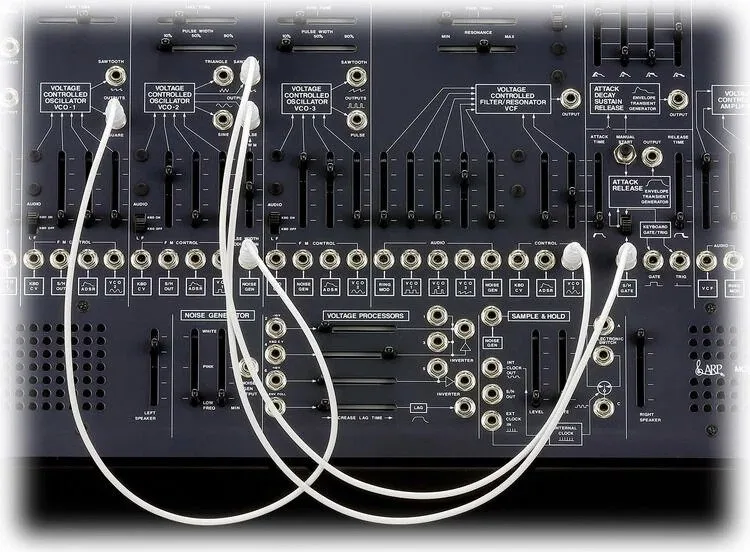 Patchbay precision
Unlike earlier modular synthesizers that relied on full-size 1/4-inch jacks and patch cables, the ARP 2600 M uses the more compact 3.5mm Bantam (Tiny-Tel) jack. This allows for more patch points to occupy the same amount of panel space, giving you more options and greater versatility. Most of the patch points are arranged in a single row below the controls of the individual sound modules, an arrangement that keeps the main panel clear and unobstructed for tweaking the controls you need to quickly access during a performance. A major bonus is that the 2600's onboard processors and patch points can be used with other modular and Eurorack synthesizer systems.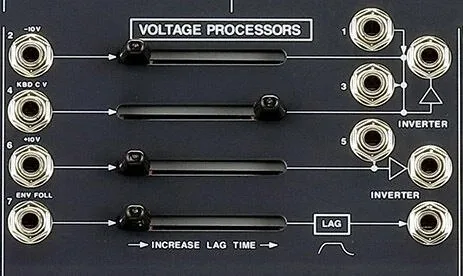 Prodigious processing power
The ARP 2600 M reveals its modularity through the unique assortment of esoteric, patchable modules it contains. To start with, there's a set of parallel-wired Multiple jacks to enhance your routing options, for example, by allowing the same control signal to be sent to multiple destinations. Three independent Voltage Processors generate scalable control voltages or they can be used to attenuate any control signal, while the Lag Generator can be used to smooth out a control signal. You can tune the 2600's Noise Generator for White, Pink, and Low-Frequency noise, or anything in between; plus, a series of three Inverters can reverse the polarity of any signal. The Electronic Switch can be sync'd to either the 2600's internal clock or an external clock signal, as can the Sample & Hold rate. The ARP 2600 M also includes a dedicated Preamp and Envelope Follower for processing external audio signals.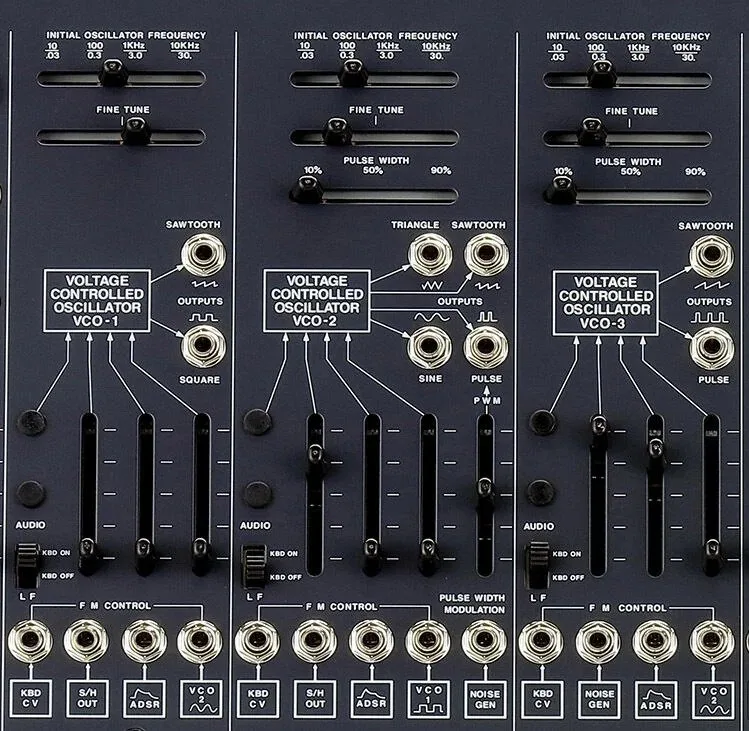 Three versatile oscillators
Back in the '70s, VCOs (Voltage Controlled Oscillators) could be notoriously unstable and tended to drift when operating temperatures rose. On the other hand, ARP's modern VCOs deliver extremely stable tuning under any conditions. The three oscillators on the 2600 M feature Initial Tuning and Fine Tuning sliders, and you can designate any of them as an audio oscillator or an LFO (Low Frequency Oscillator) for modulation purposes. Each oscillator is capable of generating multiple wave shapes at once, including Sawtooth, Square, Triangle, Sine, and Pulse. The Pulse wave of Oscillators 2 and 3 include a manual Pulse Width control, while Pulse Width Modulation (PWM) is available on Oscillator 2. To create analog FM (Frequency Modulation) effects, one audio oscillator can be used to modulate the frequency of another audio oscillator.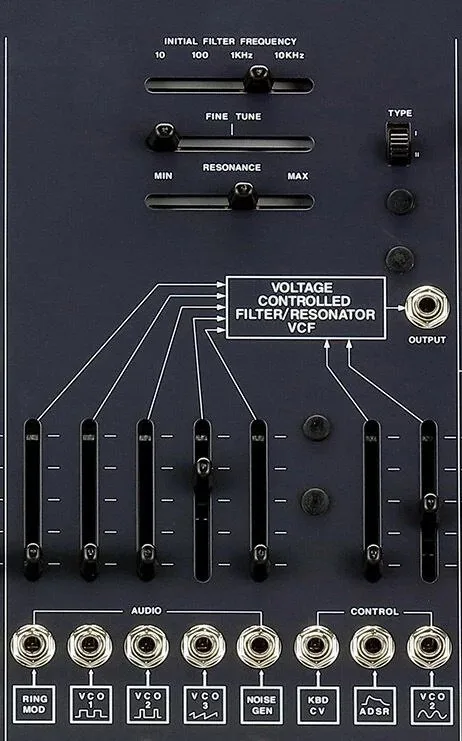 Legendary 4-pole filter
The ARP 2600 M is equipped with a 4-pole Voltage Controlled Filter (VCF) with a roll-off curve of 24dB/octave. As with the oscillators, the 2600 filter also offers a Fine Tuning slider that allows precise control over the pitch of the self-resonating filter, which you can use to great effect. The input mixer stage of the VCF includes sliders for each Oscillator, the Noise Generator, and the output of the Ring Modulator. Historically, the 2600 went through a number of changes over its decade of production. Some of these were cosmetic, while others — notably the filters — were more sonically crucial. Today's ARP 2600 M is equipped with a Filter Type switch that lets you choose between the response characteristic of either early- (4012 type) or late-model (4072 type) 2600 filters.

The Envelopes, please
The ARP 2600 houses two Envelope Transient Generators (EG). The first is a full 4-stage Attack, Decay, Sustain, and Release Envelope. The second EG offers variable Attack and Release only; the Manual Start button allows the Envelopes to be re-triggered at any time, without using the keyboard. The Envelope module also provides both Gate and Trigger outputs — perfect for patching into another analog modular or Eurorack synth.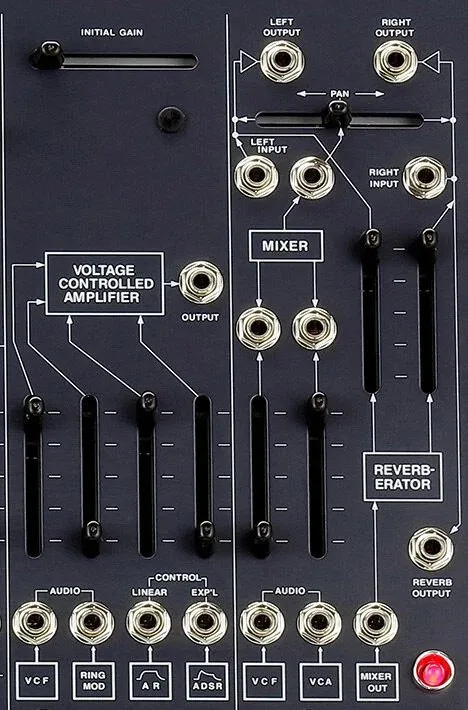 The VCA
The 2600 M's Voltage Controlled Amplifier (VCA) features both Linear and Exponential control inputs, and the Initial Gain setting provides continuous output at its highest settings. Following the VCA, the audio signal of the ARP 2600 M passes through the Stereo Mixer section and the internal Spring Reverb tank before continuing on to the main outputs, the headphone jack, and the internal stereo speakers.
Welcome modern upgrades
While remaining faithful to the original 2600, the 2600 M includes several additional features that make it even easier to use. We've already mentioned its smaller footprint and compatibility with class-compliant MIDI controllers (via side-panel USB-A and USB-B ports). While being technically "portable," the original 2600 was admittedly a bit bulky and required a proprietary connection to a dedicated keyboard. The 2600 M solves these two issues in a sleek plug-and-play unit that retains all its vintage bona fides. The new smaller size also makes it easier to visualize your signal paths as you patch and permits the use of shorter patch cables for increased fidelity. As the 2600 arrived before the advent of MIDI, ARP has added a 5-pin DIN MIDI in port to the 2600 M for compatibility with legacy MIDI-equipped synths. Another refinement is normalized voltage, which makes the 2600 M more compatible with other gear such as Eurorack modules. And you can now control Pitchbend, Modulation, and Portamento on/off using MIDI CC messages. Additionally, the time ratios for Attack and Release have been optimized for a more controllable, predictable, and musical response. The original 2600 sliders could be a tad fiddly, while the 2600 M has new and improved sliders that are a pleasure to use. And lastly, the speakers turn off automatically when headphones are plugged in.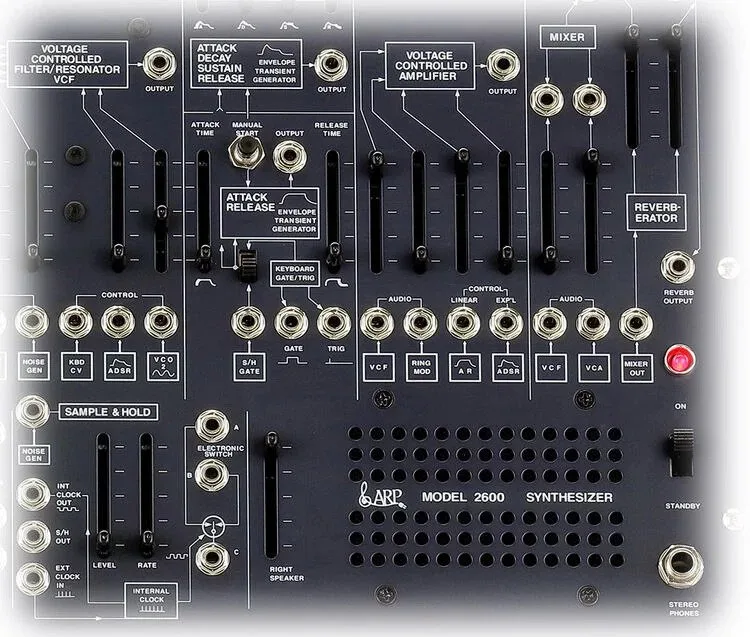 The cornerstone of the synth age
It would be impossible to overstate the significance of the original ARP 2600. It was launched at the 1970 Audio Engineering Society convention, and over the next decade, the ARP emerged as a major American player in analog synthesis. The 2600 would undergo several revisions on its journey to becoming one of the most highly coveted instruments from the vintage synthesizer era, attaining Holy Grail status among musicians, producers, and sound designers. Today's ARP 2600 M is your opportunity to own one of the most sought-after instruments from the golden age of analog synthesis, in a roadworthy package with state-of-the-art updates that make it the ideal incarnation of this historic synthesizer. Bottom line: the ARP 2600 M will rock your world. It's also an incredible value. Get yours today!
ARP 2600 M Semi-Modular Analog Synthesizer Features:
Faithful rendition of the iconic synth, at 60% of the original size and with modern updates
Includes every detail, including spring reverb and speakers
USB/MIDI and 5-pin DIN for plug-and-play connectivity
3 stable, versatile audio oscillators with 5 waveforms and LFO functionality
Pulse Width Modulation (PWM) option on oscillator 2
Analog FM (Frequency Modulation) capability
Noise Generator with White, Pink, and Low-Frequency options
4-pole filter with switchable early-/late-period 2600 response
2 Envelope Generators with Gate and Trigger outputs
Internal Spring Reverb unit
Onboard stereo speakers
Ring Modulation, lag and voltage processors
Envelope Follower; clock-able Switch
Sample & Hold module
Aux Mixer, Signal inverters
Preamp input for processing external audio sources
Headphone output jack (internal speakers mute when in use
Dedicated case with anti-shock damping, custom casters, and space for accessories
Handcrafted in Japan
Free music software bundle included
Includes 10 18″ cables